SMALL GREAT THINGS by Jodi Picoult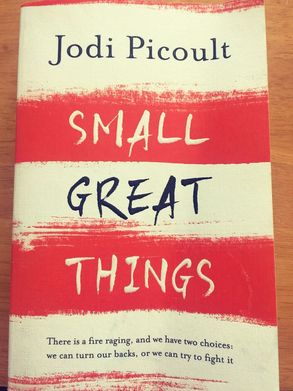 I was hooked from the very first page. This book looks at 3 people's perspective on racism. It involves:
an African American nurse,
a neo-nazi and his wife who loses their baby and blame the nurse for what happened and how they take her to court for murder
and the nurse is represented by a white American lawyer who refuses to discuss racism as defense in a court room.
By the end of the book, it struck a cord in me. It is such a sensitive topic, but Jodi Picoult tackled it impressively. It makes you question your own perceptions. Does everyone of us have some racism in us without thinking too much about it? 'Love and hate' has such a fine line and both feelings are so strong it drives people to do crazy things. I can't express how I felt about the powerful ending to the story. It was deep and I loved how three different people got their stories told. The power of love was also explicitly told through each of their stories and it got me thinking about my own feelings towards others.
My verdict: I would rate this book 4.5 out of 5 stars! Definitely, worth a read if you want to live in the shoes of each character and feel strong emotions from Jodi Picoult's words.