Smoked salmon, high fiber scone with low fat yogurt and parsley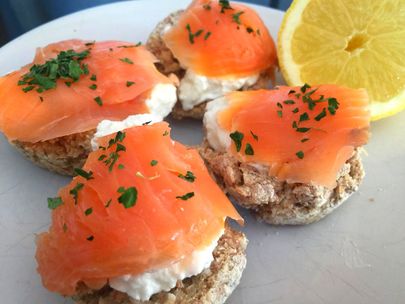 This is one of my favourite meals to make! I got the recipe for high fiber scones from odlums. Its very simple and easy to make and only takes 20 minutes of your time!
I made some changes to the original recipe and this is what I used and it serves 2:
125g self-raising flour
125g wholemeal flour
25g olive oil spread
150ml unsweetened almond milk
Firstly, mix the olive oil spread into the flour mixture and add the milk at the end and mix well. I usually scoop them into muffin trays just to help with the shape of the scones and bake them at 180°C for 20 minutes.
After which I spread a nice layer of low fat greek yogurt and place strips of smoked salmon on top of it with a sprinkle of parsley. I love squeezing some lemon juice on top of it, the flavours blend perfectly together.
I know some people prefer using crème fraîche for a creamy and full flavour, and I have them that way sometimes for a treat. Whatever you choose, its a great recipe and its easy to make when you've had a busy day and craving for something refreshing and healthy!