Nasi goreng with tofu, mushrooms, vegetables served with fried egg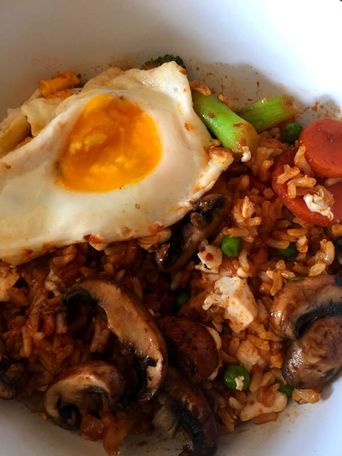 Nasi goreng in english would mean fried rice. So, you would have definitely tried this dish if you have ordered Malaysian fried rice before. Today was the kind of day that we were craving for food from my home. I decided to go with a typical dish and gave it a healthy twist! Yes, I may have cheated just so I would get this dish done in under 20 minutes or so! So here goes, I cheated by not making the sauce from scratch! Honestly, I was not feeling it but I am sure I can post a typical recipe soon!
Here is what I used for 2 servings:
200g raw brown rice
1 bottle ayam brand nasi goreng sauce
10 mushrooms
vegetables (whatever you like)
1 block of silken tofu
2 eggs
Firstly, I got my rice boiling in a rice cooker (you should own one if you cook rice often! It saves you time and helps you avoid burning rice). Then, stir fry the mushrooms and vegetables with the sauce (no oil). Made the tofu separately, its very delicate and soft so you could boil it or steam it! After which, I carefully mixed the tofu with the rest of the ingredient mix and added it onto rice. Lastly, I fried the eggs till it was nicely cooked but just a bit runny in the yolk (that is the way we like it but honestly you can cook it any way you like as I've said before).
The verdict on this dish is its nicely spiced and a filling dish for those who are looking to add calories without meat, tofu is a great substitute!