Love from South Korea-famous for Gangnam Style!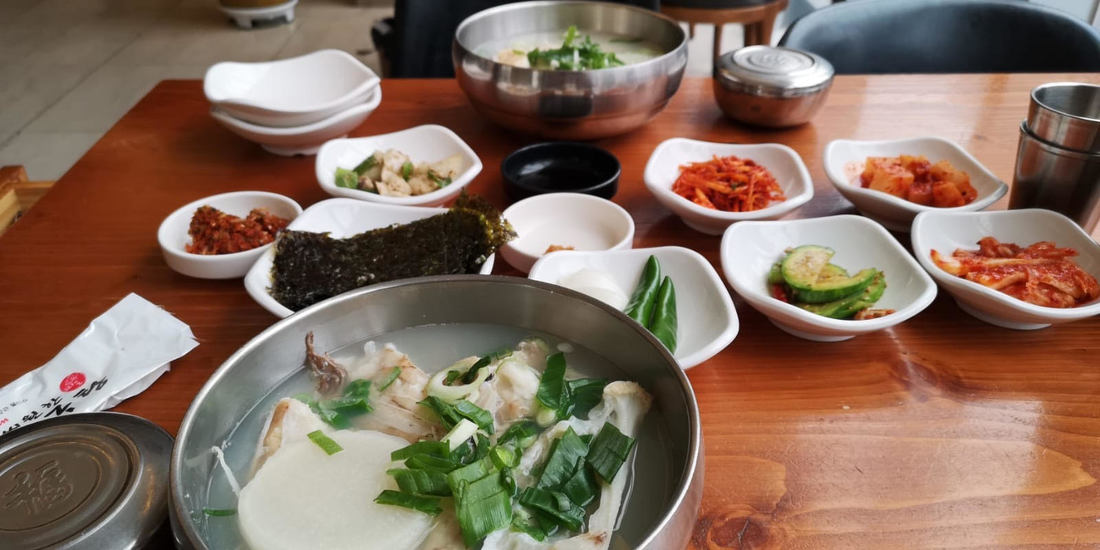 I have not visited either of the Korea's yet but one of my close friends Luis, travels so much for work he decided that he will be sending me pictures from his travels to add to my love for food. He is not a fan of Korean food, but I, on the other hand, LOVE my 'bibimbap' (usually short grained rice with meat, vegetables, kim chi and soup). So, he tells me that its the spice that puts him off.But honestly, is Korean food spicy? I guess some dishes could be, especially if served with kim chi. But then again, I am Indian and spice is essential in my diet.
Lets have a closer look at a typical Korean meal; they seem to be served in metal utensils and always served with kim chi, seaweed, pickled vegetables? In Singapore, Korean dishes were served with fried anchovies as a side (crispy with a sweet spicy flavour), I wonder if that is actually a norm or if it was adapted for us at home, since we like our anchovies. I would like to understand Korean culture and maybe I will know better if I ever visit Korea one day.
Luis does not have all the answers for me, since he travels so much for work these are the little gifts he leaves me- just a snap shot of wherever he goes. Luis and I met on a long bus ride in Cambodia and ended up being friends for life! He visits me in Cork once a year and lets just say I look forward to hearing all about his travels. This one is for you, Luis! Have a lovely Friday night in Busan and hopefully you're gonna be cranking it up Gangnam style!